Link Crew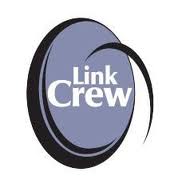 Link Crew is a high school transition program that works to train high school juniors and seniors as peer mentors (Link Leaders) for incoming 9th graders, and these mentors serve as positive role models and help guide the freshmen through a successful transition to high school.
The Link Crew program begins with Freshman Orientation, when each incoming 9th grader is assigned to a group with 8-10 other freshmen and a team of two Link Leaders, and the Leaders guide their groups through a series of activities that help freshmen get to know their peers and teach specific strategies they'll need to succeed in high school. Every 9th grader is instantly connected to other students, personally welcomed into our school, and given some concrete ideas about how to start their high school careers on a positive note.
Another element of Link Crew is 9th grade lessons taught by Link Leaders in core classes. Five times a year, pairs of Leaders receive extra training and then deliver a lesson designed to help 9th graders think about how to be successful students and use all the resources available to them.
We also have monthly Link, Crew events (movie nights, study sessions, luncheons, etc.) designed to build connections between students. Link Crew is based on making personal connections between students, ensuring that every 9th grader feels welcomed and valued by their peers, and encouraging 9th graders to get involved in school activities. It's also about training, compassionate, competent teen leaders and building a culture of community among all students at our school.
Contact:
Anna Demarinis amdemarinis@seattleschools.org, Link Crew Coordinator
Julia Harper, jmharper@seattleschools.org, Link Crew Coordinator
Jessica Mathews, jemathews@seattleschools.org, Link Crew Coordinator